SETEC Power DC Quick Charger Features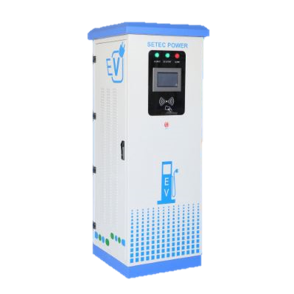 Using charging module, built-in module with CPU intelligent management, with manual/automatic dual control function.

Using intelligent module, consisting of a distributed control system. A single module failure does not affect system operation.

Charging module uses ZVZCS, three-phase PFC, three-level soft switching technology, efficiency up to 95%

Charging module has a sleep function. According to the load current, the client can automatically select the number of modules to make efficient operation.

Charging module uses a unique full isolation dust structure, built-in cooling fan with intelligent speed control. It can automatically adjust the fan speed according to the load to extend the life of the fan.

Acceptable remote tripping command to achieve emergency shutdown.

Charging module with PFC, the power factor 0.99, and THD < 5%.
DC Quick Charger Specifications
| Technical Data | SETEC Power |
| --- | --- |
| Phase/Line/Voltage/Hz | 3 Phase+N+PE/380-415 V/50 Hz |
| Charger Standard | Mode 4, IEC61851-1, IEC61851-23 |
| Plug & Socket | IEC62196-1, IEC62196-3 |
| Max Power Output/Max Voltage/Max Current | 50 kW/450 V/125 A |
| Efficiency | > 93% |
| Total Harmonic Distortion | < 10% |
| Noise | < 55 dB |
| No Load Loss | < 250 W |
| Activate & Identity | RFID |
| Index Protection | IP54 |
| User Dialogue | LED 7″ Touch Screen |
| Mechanic Impact | IK08 |
| Warranty | 24 Months |
| Operating Temperature | -20°C to 50°C |
| Socket Output/Set | 2, CHAdeMO & CCS |
| Network Connection/Network Interface | OCPP>1.5/TCP/IP |
| Gateway | WiFi/LAN |
| Housing/Cable Length | Painted Steel/5 m |
| Dimensions (WxDxH) | 66 x 66 x 173 cm |
| System Weight | 200 kg |